Editor's note: Liz Smith ("aka 'Dammit' Liz") is the geeky stage manager for W00tstock. She regularly caters to nerd royalty like Wil Wheaton, Adam Savage, Paul & Storm and Jonathan Coulton. One thing she's learned is that one-size-fits-all does not apply to the nerdy persuasion. Based on her expertise (and the contacts in her phone), she offers these gift suggestions for the geeks and nerds on your list. Follow Smith on www.dammitliz.com.
For the geeky traveler (or soon-to-be traveler):
For the television series geek:
"Doctor Who"-inspired jewelry is a fun and unique gift for fans of the British sci-fi series. I own two etsy creations inspired by the Doctor. They are subtle enough that only those in the know can appreciate the beautiful and simple tribute to one of my favorite shows. I get more compliments on my TARDIS necklace than anything else I wear. Of course a Sonic Screwdriver Pen or Adipose Stress Toy are also appropriate, as is this TARDIS USB hub.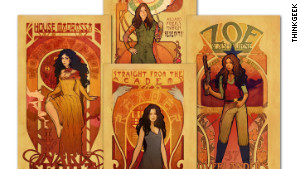 The stylized "Firefly" 4-Piece Les Femmes Poster Set is a perfect gift for the die-hard "Firefly"/"Serenity" fan. The Jayne Hat, as worn by Jayne Cob (played by actor Adam Baldwin) in the series,  is a common sight at many fan conventions. This handmade hat is an easy find on etsy.com Like Wash says, "A man walks down the street in that hat, people know he's not afraid of anything." Or go for something "shiny," like this necklace. "Shiny" was a popular slang term used in the series.
The Sheldon Cooper Bobble Head is an excellent choice for the "Big Bang Theory" fan in your life. Complete with Green Lantern T-Shirt, he will bob along with you in the car or welcome you home after a long day. Another great gift for this fan is the Rock, Paper, Scissors, Lizard, Spock T-Shirt or mug. There's also the Singing Soft Kitty plush that sings the "Soft Kitty" song from the show. FULL POST