"Big Bang Theory" actress Mayim Bialik finds it interesting that she was seated on the far end of the show's San Diego Comic-Con panel last Friday, next to the producers.
"It's my best kept secret," she joked to reporters a few hours later. "I belong much more with them."
As a neuroscientist, she feels a kinship with the brains behind the machine, as well as a connection with many of those who attend fan conventions.
"I love our cast and I love actors, but I also love comic books and sci-fi," she said, "so I am the one [on the cast] who is most 'Comic-Con friendly.'"
And the question on everyone's minds at Comic-Con when it came to her character, Amy Farrah Fowler (for which she was nominated for an Emmy on Thursday), was where her relationship with Sheldon (fellow Emmy nominee Jim Parsons) might go next.
"I actually think it's kind of sweet that it's crawling along at this stage," she said of their characters' romance.
"We've seen some signs like me in the Star Trek uniform – where he might see things my way. And in the season finale when he held my hand, it was very telling. I love the sparring that Amy and Sheldon do verbally. I love the non-romantic aspects of their romance, I think that's really sweet."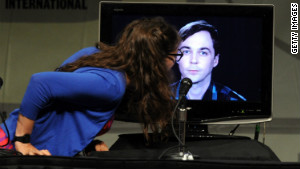 Bialik has a special place in her heart for Jim Parsons as well, and she leaned over to kiss his image on a TV monitor, as he was broadcast to the panel via satellite from New York.
She also sees the character of Amy as a positive development for women in science.
"There are no comments about Amy's attractiveness or lack of attractiveness. [Sheldon] likes her as she is. As far as we know, it's really irrelevant. He's really attracted to her mind. Their sparks are intellectual."
But is Amy a role model for young girls?
"I leave that to my personal life," she said.
"I'm a spokesperson for Texas Instruments, it's my second year with them. But our show, in general, has raised the bar for geekdom and I think that's really special."
As for which nerdy guest star she would like to see on the show next, she said it's pretty hard to top Stephen Hawking last season.
"I have some particular neuroscience people that I'd love to see," she said.
"I was off when Leonard Nimoy was on, which, personally, was horrible not to be there. For Stephen's episode, I also wasn't there, but I was invited to his 70th birthday party, along with [executive producers Bill Prady and Steve Molaro]. He came by for a run-through and we heard Stephen was coming in, and it was my first day back. I got to meet him there so that was really thrilling. But I think Bill would like to get every 'Star Trek' cast member ever for the show."
[youtube http://www.youtube.com/watch?v=T7sldWRKhzE&w=560&h=315%5D