It's inescapable.
During San Diego Comic-Con - the largest annual gathering of the comic book faithful in North or South America - the convention, with its banners,  murals, and shrink-wrapped vehicles, spills out into the streets of the city's Gaslamp district like lava from a brightly-colored volcano.
Promotional art for upcoming films, TV shows and video games is plastered everywhere you look. Even some of the hotel keys and elevators in the city become the equivalent of movie posters.
"It's overwhelming how big everything is and certainly buildings all over San Diego are 'wrapped,'" said Jon Barrett, Los Angeles bureau chief for Entertainment Weekly.
"It's not just the people at the convention, everybody in San Diego is enveloped by this promotion. So much of the circus is on the streets."
Bringing a good portion of that 'circus' to life is Pam Anderson, the manager at Architecture Art in Aliso Viejo, California.
Comic-Con as an organization has been arranging huge ads for big studios and networks, Anderson said, but last year's convention seemed to be a turning point in movie and video game publicity.
"The San Diego Marriott Hotel and Marina had 'Skyline' and 'Immortals,' and 'Batman: Arkham City' on the side façade," she said, "so it was almost like they were running out of space." For the last five years, San Diego has been awash in large-scale, Comic-Con related imagery, she said. "Each year keeps getting bigger and better."
This year, among Anderson's many projects is a massive, hand-painted mural showing a stormy scene from "Falling Skies" (which airs on TNT, a Time Warner company like CNN) on the side of a building. She quickly realized that a two-dimensional banner wouldn't be enough.
"When the public can walk by and see our artists literally painting a mural of this size, it's a fascinating thing, an event in and of itself," she said.
Anderson pointed out this kind of work can take up to two weeks to complete, as opposed to a printed banner's half-day installation process. "Can you imagine painting a storm, every little drop of rain?" she said.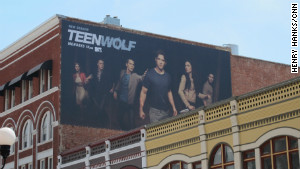 Even when banners are used, like with an ad for MTV's "Teen Wolf" on the side of the historic Keating Hotel, precision is key. Small details in mind, Anderson explained how the image of a knife is just visible above a building in the foreground.
Comic-Con displays are about "shock and awe," Anderson said.
"When you see a 20-story high Spider-Man or a Transformer, it really transforms you," she said.
Dan Beer, one of Anderson's clients in 2011, personally saw the power of Comic-Con marketing when he worked on what appeared to be a three-dimensional painting for the video game company Ubisoft.
"It's a pretty marketing and ad-savvy audience that goes [to Comic-Con], and they're used to being hit with messages day in and day out. We wanted to be sure we stood out with this message."
Beer compared the marketing at the event to the highly valuable 30-second ads during the Super Bowl.
"There's a lot of time and energy spent in refining the perfect message and creating work that's going to impact this audience," he said.
"Visitors here are well-versed in what games are coming out. They know when games will be released and already have an opinion formed of those games. We wanted to reach out with this game so this influential group can go back and share the word with their communities."
The overwhelming promotional imagery is endemic of what seems to be the bigger-is-better mentality at Comic-Con, but what does it say about the conversation that these companies are trying to have with fans?
"We have this motto, 'Go big or go home … and don't charge,'" said Lisa Gregorian, chief marketing officer for Warner Bros. Television (also a Time Warner company).
"This is our fanbase and we believe this is an opportunity to not just get our programs in front of them but also to say thank you, so anything we give them, we give them for free. That's being part of the Comic-Con community."
Warner had a reputation for handing out free swag bags at The Con, but three years ago, they asked to sponsor Comic-Con's bag. The rest is history. Now Warner TV imagery appears not only on the bags - which every attendee receives - but on many San Diego hotel keycards as well.
Comic-Con is truly fan-centric, Gregorian said. If you're an entertainment company, "You're relying on the fans to carry the load of the social media," she said. But those companies are aware that the sea of publicity images are part of the bigger picture at Comic-Con, involving booths, panels, swag and signings.
"They put it all out there and hope for a good response. If they can get the buzz that [a 'Twilight' or 'Iron Man'] brings, that's huge for them," Barrett said.
"It's a real gamble for these studios."
Are you at Comic-Con? Share your photos of imagery like this and other sights and sounds of the convention on iReport.