Happy Pi Day! A favorite holiday among geeks, March 14 commemorates one of the most fundamental and strange numbers in mathematics. It's also Albert Einstein's birthday.
This is a great excuse to bake pies, as many iReporters have (send us your pie-report!). But there are also lots of reasons to celebrate this number: Pi  appears in the search for other planets, in the way that DNA folds, in science at the world's most powerful particle collider, and in many other fields of science.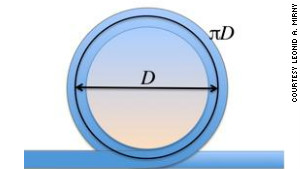 Here's a refresher: Pi is the ratio of circumference to diameter of a circle. No matter how big or small the circle is, if you calculate the distance around it, divided by the distance across it, you will get pi, which is approximately 3.14.  That's why Pi Day is 3/14!