Just one week after the loss of "Star Wars'" conceptual artist Ralph McQuarrie and Golden Age comic book artist Sheldon Moldoff, fans were in mourning yet again when the publisher Dargaud announced the death of Jean Giraud, sometimes known by the pseudonym Moebius, had died over the weekend at the age of 73.
Giraud got his start drawing "bandes dessinées" (French comic strips and comic books) in the 1950s. He gained fame in the comics world with his illustrations of the Western character, Blueberry.
In 1975, now working under the name Moebius, he and three collaborators began work on the comics magazine "Heavy Metal," which became so popular that it became a feature film in 1981.
Moebius' dreamlike landscapes caught the attention – not just of the U.S. comic book world – but of Hollywood. His conceptual art informed the looks of the science fiction films "Alien," "Tron," and "The Fifth Element."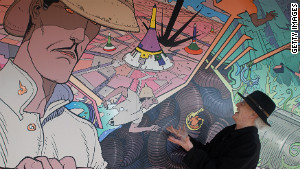 Moebius also collaborated with Stan Lee on an Eisner-award winning "Silver Surfer" mini-series. He also did a series of posters of Marvel Comics characters.
Moebius greatly admired the work of anime legend Hayao Miyazaki and the pair once put together an exhibition in Paris in 2004.
Fans and artists who were inspired by them shared their memories of him online.
Comics Alliance wrote:
Moebius leaves behind a body of work that spanned 50 years, and in the disparate forms of comic books, film, animation, illustration, sketches and paintings, across all manners of formats and languages. Even for many of his most devoted readers, there will always be new worlds to discover. In that way, we can take solace that Jean Giraud will always be with us.
Giraud's work lends itself to the ethereal, and the occasion of the artist's passing has naturally inspired everyone to post images that best express the profound emotions of the moment.
Cyriaque Lamar posted on io9:
It's pretty hard to overstate the hand Moebius had in some of science fiction's most phantasmagoric cinema. You know his work even if you've never realized it.
In addition to providing preliminary designs for such films as "Alien," "Tron," "The Abyss," "Masters of the Universe," "The Fifth Element," and "Willow" (which were awesome albeit unused), the artist provided concept art for El Topo director Alejandro Jodorowsky's never-realized Dune adaptation, which was to star Mick Jagger and boast a soundtrack by Pink Floyd.
Harry Knowles of Ain'tItCoolNews recalled:
I met Jean Giraud at Comic-Con about 17-18 years ago. It was before AintItCool, I was just a rotund geek wandering Comic-Con with my sketch book. I'd just ran into Jack Kirby, who drew me a quick happy face when I recognized Jean Giraud. I quietly walked up to him and asked if he would do a quick sketch for me. He looked at me and said, "You know, I'm not Moebius," and I responded, "Moebius is a dream, you're Jean Giraud." He smiled and drew a full page sketch that became one of the centerpieces of that particular sketchbook.
I stand by what I told him. Moebius is a dream. A dream that I never will fully wake from....
He had a style that was instantly recognizable, his stories thoroughly rocked my mind as a child and as an adult. But more than anything, I'll remember when he handed me back my book and my face lit up, I caught his smile and a twinkle in his eyes. He said, "I don't usually do that, but there's something special about you." At the time, that meant the world to me. When a hero tells you that, it means the world.
The comic book world paid tribute on Twitter as well.
Writer Neil Gaiman ("Sandman") tweeted, "His art inspired me when I was 14, and his stories did too, because I didn't understand them." He wrote more about Moebius on his Tumblr.
Jim Lee, co-publisher of DC Comics, called him "a huge influence and true visionary, we've lost the best."
Marvel COO Joe Quesada called him "perhaps one of the greatest artist[s] to ever walk this earth."
Collaborator Paulo Coelho wrote, "I bow in reverence for you, Moebius. Your body died today, your work is more alive than ever. Will remember forever your house, your smile."
Writer Brian Michael Bendis ("Ultimate Spider-Man") called him "a gigantic true hero of mine," and shared the introduction he wrote for a collection of some of Moebius' work.
Artist Tony Moore ("The Walking Dead") tweeted, "I can't believe Moebius is dead. I was certain he was a force of nature. I don't have words for the depth of this loss for our art form."