Vik Sahay – better known to fans of NBC's "Chuck" as the Lester half of the rock band "Jeffster" on the cult spy-fi series – recently recalled his first time performing in the two-man band for the at San Diego Comic-Con, as a warmup act for the show's panel.
"I asked (Zachary Levi), who had been to Comic-Con, 'Is this going to be like one of those question and answer things we've done for "Chuck"? ' And he went, 'Oh God no,' Sahay told CNN Geek Out.
"When we walked out, it was this wall, this wave of sound and emotion and frenzy, that I never imagined when I signed on to do a little TV show. It was – in our little world – pure rock star."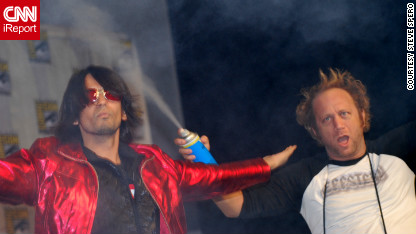 As a Canadian, Sahay was not familiar with geeky fanbases from the U.S., and their propensity to start major campaigns to save their favorite shows, something which worked brilliantly, in the case of "Chuck."
"Initially when this started happening – these Subway campaigns (to support a major "Chuck" advertiser) – I thought, 'Oh, that's so sweet. Anyway, what's the next job I'm gonna do?' " he said. "So I had no idea, of not just the power of the fans – but the power they created in order to have it happen. I was shocked every time. I personally was like 'What?!?' every single season."
The genesis of Jeffster came from Sahay's chemistry with his TV partner in crime, Scott Krinsky (aka Jeff). He recalled the day he was first asked by one of the writers if he could sing."
"I ran screaming," he joked. "And then it showed up in the script."
The constantly scheming Buy More "Nerd Herd" employee has been a fan favorite during the series run, which ends next week on NBC.
"The first few times putting those (Jeffster) songs together was just so scary, so hard, so foreign," Sahay said. "But by the end I had really begun to cherish it. It's one of the things I will miss the most, is working with these high-end musicians to create the Jeffster instrumental sound around my warbled vocals."
As for this final season's discovery that Jeff's dim-wittedness came from exhaust fume poisoning, eventually leading to Jeff turning Lester into the authorities, Sahay – who can next be seen in the upcoming movie "American Reunion" – said he got what the show was doing, going in that direction.
"Jeff being cured was a great thing to happen both for Scott, and the character of Lester. Lester, almost tragically is a prisoner of himself, in his own drive and needs. I think it was perfect."
After the past five seasons of witnessing the fans' passion, Sahay understands just how much shows like "Chuck" can mean to fans.
"I did an interview in Toronto and the interviewer was talking about how their children had watched 'Chuck' (with them). And the idea that 'Chuck' was actually ending brought tears to this person's eyes. The truth is I can be a very particular, perfectionist actor, madman. Every once in a while, I get a tap on the shoulder and (realize) 'Vik, you can relax – people are getting something beautiful out of it.'"