Most days, Katie Goldman's life is like any other 8-year-old's. But every so often, there's a reminder of the time one year ago, when schoolyard teasing made her a Star Wars celebrity, when she became a symbol of geeks done wrong - and how to make things right.
Sometimes the reminders are simple, like when a new girl showed up in class, spied Katie's Star Wars backpack and water bottle, and within days, felt comfortable enough to show her own nerd pride.
Sometimes, it's heart-tugging, like at GeekGirlCon, when a brigade of Storm Troopers formed an honor guard, a line of protection - for Katie.
And sometimes, it's huge, like today: Wear Star Wars, Share Star Wars Day, a celebration of geekdom and giving that was inspired by Katie's story.
Last year, Katie wanted to hide away her Star War wear after her classmates teased that Star Wars was just for boys. Her mother, heartbroken for her daughter, blogged about the experience. It flew across blogs, social media and news sites, along with the Twitter hashtag #maytheforcebewithkatie. The grown-up geek community knew Katie's pain, and responded with thousands of supportive comments, plus donations of toys, clothes and books, many of which went to students at Katie's school.
It became Wear Star Wars, Share Star Wars Day, and this year, thousands on Facebook promised to show off their Star Wars fandom and donate merchandise for kids. At Katie's school in Illinois, they call it Proud To Be Me Day, and kids are encouraged to show off what they love and what makes them unique.
"But some things are permanently different," said Carrie Goldman, Katie's mom.
Katie's entire school has embraced anti-bullying techniques that involve teaching kids to respect what makes everyone different, to understand that kids who bully others can also be victims.
Just as Katie has learned to defend girls who like Star Wars, she defended a boy at a birthday party who said he wanted his nails painted like the girls there.
"[Katie has] internalized how completely OK it is to do what you want to do," Goldman said.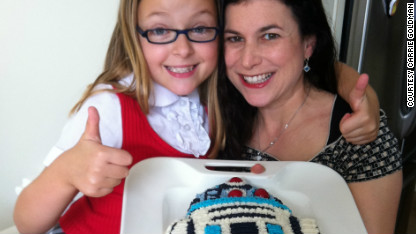 It's changed life for her mom, too. Last year, when Goldman first shared Katie's story on her blog, Portrait of an Adoption, it mostly served a small adoption community. Thousands of page views and comments later, she said, the audience has grown.
That means Goldman is more careful when sharing stories about her kids, although she still shows updates of Katie in her Princess Leia costume, or her homemade R2-D2 cake.
"She's a self-conscious girl. People will approach her and say, 'Are you Star Wars Katie?' and she gets shy," Goldman said. "I ask myself before every story I write, 'How will Katie feel about this one day?' I think that's good and healthy."
Goldman now writes more about broader parenting and adoption issues, and is writing a book about bullying. It's based on research and interviews, Goldman said, but includes the story of Katie, the wise ways her school reacted and the tremendous ways the Star Wars community responded. "Bullied: What Every Parent, Teacher, and Kid Needs to Know About Ending the Cycle of Fear" will be published next summer by Harper Collins.
And even a year after Katie's story hit the Internet, the Goldmans stay in touch with the geek girls who first shared the story and encouraged Katie's Star Wars fandom. Katie got the message – "loud and clear," Goldman said – that she's safe to pursue what inspires and excites her.
"I know, every now and then, I'll get a note of support," Goldman said. " 'How's Katie doing? We're still thinking of her.' "
And that old backpack of Katie's? It's frayed, cracked and falling apart, but Katie carries it to school every single day.