Geeks and gadgets tend to go hand in hand. If the geek in your life loves tinkering with computers and all things digital, this is the gift guide for you.
Most nerds have a desire to rule the universe, either for the forces of good or evil. One way to earn real pointage with the geek in your life is to give him or her the ability to harness the awesome power of the sun. This Piggyback Solar Powered Gadgetbag is the first step to making this happen.
A flexible, portable solar panel that attaches to a backpack, the Gadgetbag soaks up the sun and converts rays into 1000mA at 5.6volts. For cloudy days, the bag also stores power in a lithium ion battery pack. Geeks can also connect their gadgets into the panel via USB for direct charging. The back has two pouches, big enough for a Kindle and iPad, granting your geek the power of even more space.
Of course, with great power comes great responsibility, so don't be shocked when souped-up geeks start fighting crime with solar-powered supersuits.

The computer geek in your life is also likely a nomad gunslinger, traveling around town to assist those in need of IT assistance. Regardless of the gunslinger's skill, he or she is at the mercy of space limitations. The N-NCP201 Portable Laptop Folding Computer Table solves that problem.
The lightweight caddy creates a work station wherever there is enough floor space to set it up. The silver and black N-NCP201 table is constructed from an aluminum alloy and has an adjustable width of 14 inches. It can hold up to 33 pounds and has a surface that can be angled from 30-160 degrees.
While the aluminum alloy dissipates some heat from the laptop, a 200mm blue LED fan cools the machine down further and adds to the caddy's sleekness and functionality. And, in case your computer geek gunslinger is also a messy eater, the caddy is easy to wipe down.
Computer geeks have a lot of stuff to carry around. Beyond the computer system, there are gadgets, accessories, tools and goodies. All that stuff needs to go somewhere. Thankfully, the GRID-IT by Cocoon Innovations is a creative solution that slips easily into luggage, carry-ons or laptop bags.
A system of rubberized elastic bands that overlap and interlock, the GRID-IT allows a computer geek to organize chargers, cameras, mice, hard drives, memory sticks and other accessories. The bands secure the items so they don't wobble and can be used over and over again without losing elasticity. Moreover, with 15 models of different sizes – including some that include sleeves for an iPad and MacBook Air – the GRID-IT offers something for all levels of gadgeteer in need of order.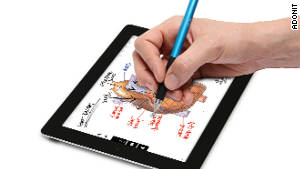 For geeks who prefer a stylus on their tablets, the Jot Pro is highly recommended. This writing tool doesn't have the fluffy tip that some styluses have. The Jot Pro allows users to draw as accurately as they would with a ballpoint pen.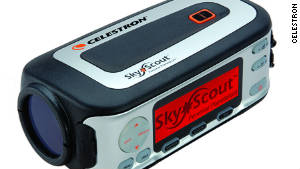 A planetarium in the palm of your hand? The SkyScout Personal Planetarium identifies celestial objects for geeks who prefer to gaze at the stars.
And, of course there are always state-of-the-art telescopes to choose from.
Finally, if money's no object, the big enchilada for the gamer on your list could be a new gaming rig. The folks over at gaming manufacturer DogHouse Systems gave us some recommendations for gaming computer equipment:
Starting with an entry-level desktop, they offer two variations of the Armor VS 550 with a single or dual card (SLI) configuration. The Intel Core i3 2120 is a great balance with this system.
Next up, a high performance desktop: The Armor TL features the Intel Core i7 2700K. It has a closed loop CPU water cooling system that doesn't require maintenance. This allows them to safely overclock the system. DogHouse Systems offers single or dual GTX 570 or 580 video cards.
For the gamer on the go, a laptop system could be the solution. You can't go wrong with any of the Mobius series, but if you want top of the line performance, look no further than the Mobius TL 580. This thing is a beast of a gaming rig and it's hard to believe it's a mobile platform that you can actually take on the road and not break your shoulder carrying in a laptop bag.
Hopefully gifts like these deliver the gadget fix your loved one has been craving. Check back here Friday for more gift ideas from your friends at CNN Geek Out!