You're wandering through the mall, intent on spreading holiday cheer and looking for gifts that suit the subculture nerds in your life. The last friend on your list without a check next to their name wears goggles in public and makes a show of checking their pocket watch as moving cogs and wheels adorn their Victorian era suit.
Or perhaps they roll on thick black eyeliner, hammer their own swords in the backyard on Sundays or give anime characters a run for their money by bringing impeccable costumes to life.
So what do you buy for your steampunk, Goth, SCA member or cosplayer friend this holiday season?  Luckily, you've tuned into the Geek Out shopping wavelength.
If you're afraid of buying something they might already have, it's easy enough to ask. They will appreciate the fact that you want to find something that fits into their subculture that they don't already own. Some specialty shops, like Clockwork Couture, offer a wish list where steampunks can check off their favorite gotta-have items.
Because buying subculture specific items can range from inexpensive and kitschy to you-better-be-in-a-serious-relationship-to-consider-this caliber, take care.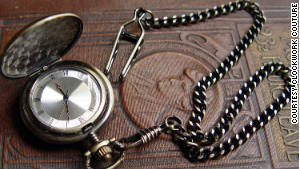 Places like Clockwork Couture are stocked with gifts for the steampunk in your life. From a quintessential pocket watch to a dirigible ornament for the tree to a classy rubber and aluminum tote for laptops and an elegant gun cane, the store also offers up gift options in its costuming department, including one-of-a-kind hats and the ever-versatile canvas utility belt.
The Steampunk Emporium also says "goggles are a given, even if they already have six pairs." And of course, a top hat to strap them on doesn't hurt either. Brassy bits, clockwork jewelry or weaponry also signify that you care deeply for your steampunk. If you want to venture into the world of steampunk apparel gifting, there are ways to work around the awkward "but will it fit?" question.
"A lady might like to buy a tie for her gentleman, especially ascots," said Chris Allen, owner of the Steampunk Emporium. "You can determine the degree of dandy you want them to be. There's nothing like a tie or vest to completely change a look, and the louder the better."
Stumped or intimidated about what to get for your Goth friend? Skip what you might regard as an obligatory stop at Hot Topic and find something a bit more thoughtful. Kat Kinsman, our dear friend who penned a loving, memorable ode to her years growing up Goth, shared her suggestions.
"Goths burn a lot of candles," she said. "They have more snuffing needs than most people."
So pick up a fancy snuffer or snag this intriguing book about one of Goth's favorite designers, Alexander McQueen. In "Alexander McQueen: Savage Beauty," the evolution of the designer and his creations is profiled, complete with 293 full-color illustrations.
You can also drop by the aptly named Gifts for Goths site and find everything from Goth high heels and fingerless gloves to dramatic makeup and daringly adorable trinkets. They've got affordable apparel and gift items for men and women, so fill up the cart and show your favorite Goth how much you care.
If you've got a friend who's toying with the idea of joining the SCA, or Society for Creative Anachronism, be a dear and buy them "The Known World Handbook," which is the SCA's official and complete guide, if they don't already own it.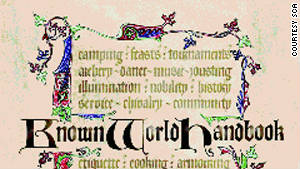 Scott Farrell, the SCA's media representative, also recommends (side note: these are not endorsed by the SCA) picking up the board game Caracassonne, which is a fun way for the whole family to learn about the feudal system.
If you know a serious SCA member, you can either purchase or point them in the right direction about tracking down authentic medieval reproduction clothing, gambesons (for those in the dark – what you wear under a suit of armor), helmets, crossbows, chain mail, shields, rapiers, or heck, even a complete suit of armor. On the less expensive side of apparel, you can always get them a T-shirt featuring catch phrases in Latin.
Take care if making a book purchase, because they most likely already own quite a few and are looking for specific titles, rather than the complete history of medieval Europe. Farrell suggests sticking with the practical and authentic side of things and staying away from fantasy-based items, like a sword from "The Lord of the Rings" or "Game of Thrones" series. They want something they can use, not put on display.
"Just about everyone in the SCA has had the uncomfortable experience of being given something completely cheesy or inappropriate as a gift from a well-meaning family member, and having to put on a smile and say, 'Oh, thanks Grandma. That glittery pink gown will look great at our next medieval festival,'" Farrell said.
And don't forget the cosplayer, your elegant friend who defies gravity with her costumes and probably owns all the specific things she needs to make actual anime characters jealous anyway. But what about the things she wants?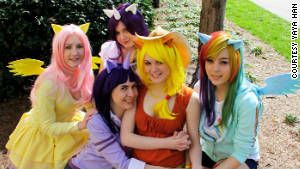 Cosplayer Yaya Han creates and sells her own items, like an adorable pony ears and unicorn set or steampunk wings, but she also recommends buying the cosplayer in your life things like a Jo-Ann gift card, the Sephora Makeup Studio Blockbuster set, "Making Faces" by Kevyn Aucoin (to help them make the most of that set) or a wig from Arda Wigs.
Because of the inherent DIY aspect of many cosplay costumes, you could also show them you care by picking up some Wonderflex by the yard (for said gravity-defying costumes), a random-orbital sander for prop-making or a dremel tool set for any "armor plans" they may have.
Is the cosplayer a casual friend? Gift-give and help the Japanese Red Cross by purchasing the Cosplay for a Cause 2012 calendar, featuring photos of cosplayers in Japanese character costumes. If you think your cosplayer falls under the otaku category, be sure to check out our otaku gift guide!
Have other suggestions? Let us know in the comments below. Geek Out wishes you and your nerd culture tribe member friends a happy holiday season!