The much-discussed remake of the 1960s sitcom "The Munsters" (about a family of monsters, and their "normal" niece, Marilyn) is moving forward at NBC, with Bryan Singer, director of the first two "X-Men" movies, now on board to produce the show and direct its pilot episode.
Bryan Fuller, best known for creating the beloved short-lived series "Pushing Daisies," and his work on "Heroes," confirmed the news on Twitter. Fuller will be heading up the rebooted "Munsters" (as opposed to the previous late 1980s/early '90s update).
With both Bryans' pedigrees (one dealing with mutants, and another with unusual, but brilliantly written, and visually compelling concepts), this is sure to make "The Munsters" one of the most anticipated series of next year.
CNN Geek Out spoke separately to two writers from CliqueClack.com - the TV/film recap and analysis site, which has its finger on the pulse of what the fans are thinking - to discuss what we might expect from this upcoming show.
Sharing their views on the project: Katie Schenkel, founder of the movie review site Justplainsomething.com). She has recently written about the companions on "Doctor Who" and the women of "Young Frankenstein" among other topics. Also, Anita Nicholson,  who delved deeply into the character of Rumpelstiltskin on "Once Upon a Time," and analyzes "Sanctuary" on an episode by episode basis.
CNN Geek Out: Were you a fan of the original show?
Schenkel Yes, I was a fan of the original "Munsters." I caught it on Nick at Nite when I was a kid. There was something pretty entertaining about a white bread sort of family that just happened to look like they were out of a Bela Lugosi movie - they have more in common with "The Brady Bunch" than "The Addams Family." Sure, it was cheesy camp, but camp can be fun.
CNN Geek Out: Are you a fan of either Bryan's work?
Nicholson: I was a big fan of Bryan Fuller's other short-lived series, "Wonderfalls." It was basically an older version of "Joan of Arcadia." As the show continued, the mythology deepened, which I enjoyed. It really spoke to me (plus a friend of mine is kind of like lead character Jaye). One off-kilter thing I enjoyed was how they handled the interracial and lesbian relationships - it was just a very smart show. I watched the DVD over and over again.
Schenkel: I'm a fan of Bryan Singer's work on the first two X-Men films (I'm actually working on a vlog series about the franchise). I also thought "Superman Returns" was enjoyable, even with its flaws. I only really know Bryan Fuller's work from "Heroes," which I loved in the first season but lost interest a few episodes into the second season.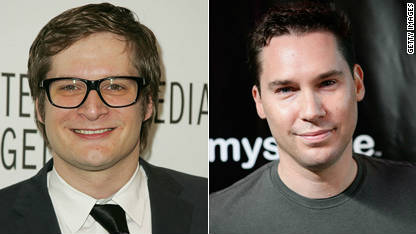 (Bryan Fuller, left) and Bryan Singer)
CNN Geek Out: What do you think we might expect from this new "Munsters" because of who is working on it?
Nicholson: My first thought was "No, please don't do it!" I think [Fuller] is an incredibly witty and smart writer but to reboot something so entrenched in our consciousness, I would say let it go.
Schenkel: Bryan Singer has experience adapting familiar stories for a new audience, so that's a plus in his favor. However, this is the first time he'll be adapting straight comedy for television, which I suspect will be a challenge. Bryan Fuller's experience with "Pushing Daisies" might help bring some whimsy to the project, but it will really come down to whether they can keep the charm of the original show without making a carbon copy or whether they can go modern without moving too far away from the source material.