With literally hundreds of titles at your average comic book store, it can be a daunting task to search for holiday gifts for the comic book fan in your life. Lucky for you, CNN's Geek Out team is here to help!
While it's no surprise that a great gift for a comic book fan is a comic book, graphic novels are a gift worth the higher price tag. They consist of longer stories than the average comic book, are often (but not always) in hardcover and are sometimes a collection of  multiple issues of previously-released comics.
This year, one particularly holiday-oriented graphic novel is "Batman: Noel," a brand-new story inspired by Charles Dickens' immortal classic "A Christmas Carol." "Batman: Noel" features a different interpretation of the Dark Knight from writer/artist Lee Bermejo.
This Batman-exploring-what-it-means-to-be-a-hero story is Bermejo's first go as the writer and artist, so it's a much-anticipated book for fans of Batman and DC Comics. [Note: DC Comics is a Time Warner company, as is CNN.]
So, if you purchase it for the Batman fan in your life, make sure to tell them that you heard it was from the same artist who worked on "Joker" in 2008. That is certain to give you a few bonus points.
If your comic book fan prefers the undead to superheroes, then "Marvel Zombies Christmas Carol," another four-color take on the Charlies Dickens classic, may be just the ticket. The last couple of years have seen a plethora of zombie-related content on comic book shelves, and Marvel has its own zombie sub-genre.
Vampires are still plenty popular, and the first two volumes collecting the critically-acclaimed "American Vampire," from DC's mature audiences imprint Vertigo, is a good pick for those who want something with (how could we not make this pun?) a little more bite. Your friend or family member will be interested to know that this is by the current "Batman" writer.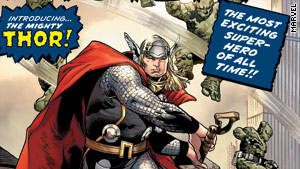 For comic book fans who enjoyed this year's crop of superhero films like "Thor," collections such as "The Mighty Thor Vol. 1 Omnibus" offer a great look at where these story lines all began.
There's also the quite affordable "Green Lantern Chronicles: Vol. 1" (which shows how closely the movie adhered to the earliest 1959 Silver Age stories of GL), the hard-to-find (but worth it) "Marvel Masterworks: Golden Age Captain America Vol. 1," and 2007's inexpensive collection of the first eight issues of "X-Men: First Class."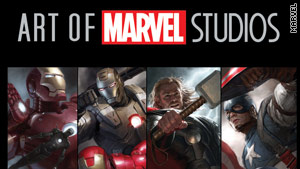 "Art of Marvel Studios" offers beautiful images and details on the making of the "Iron Man," "Thor" and "Captain America" films, stuff that comic book movie fans drool over.
Then there's another take on the superhero movie, the recent phenomenon of "motion comics," sort of like visual books on tape. The genre is represented well in the new "Marvel Knights Animation Collection," which includes such recent classics as Joss Whedon's first "Astonishing X-Men" story arc, and "Iron Man: Extremis" (which influenced the recent movies – something else you can mention to your gift recipient). It's a great way for readers to catch up.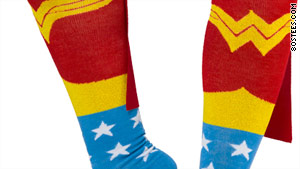 Wonder Woman's sock drawer must be full of these flashy, star-spangled knee-high socks, complete with a cape.
For other female readers looking to make a fashion statement, there's nothing subtle about nOir Jewelry's DC Collection. The Batgirl Dome double finger ring is one of its boldest pieces. Plated in gunmetal with cubic zirconia details, this thing is practically big enough to qualify as a batarang. Deadly weapon or stunning accessory? Either way, the female Bat-fan will wear it proudly.
Another way comic book fans can give a shout-out to their favorite characters is in their ears. The Marvel and DC comics-themed earbuds from iHip definitely fit the bill there.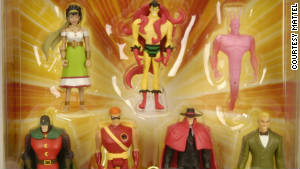 If comic book collectors are anything, they are "completists" - they need a full set. The same applies to comic-based action figures, and the "Justice League Unlimited" 7-pack, completes the full JLU team.
Also tremendously popular among many comic book fans are painstakingly crafted sculptures of favorite characters. One of the latest examples of this is DC Direct's Harley Quinn statue, based on the character (who first appeared in "Batman: The Animated Series") as she is seen in the popular DC Universe Online game.
As for indie comics, fans of Joss Whedon's Dark Horse work might go for th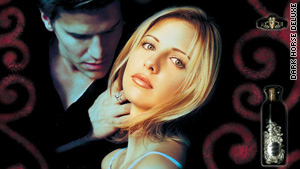 e back-by-popular-demand "Buffy the Vampire Slayer" Supernatural Defense Kit."
Like "Buffy," "Hellboy" remains a popular Dark Horse Comics character, and the self-contained graphic novel "House of the Living Dead" is another good choice for fans with an independent sensibility. Something worth mentioning here to your friend or family member: The art is by "Hellboy" creator Mike Mignola, and it's the first original "Hellboy" graphic novel.
You can't begin to talk about indie comics without mentioning "The Walking Dead," and if you know someone who has followed the comics before AMC adapted it to the small screen, they will want Image's deluxe slipcased edition of "The Walking Dead: Rise of the Governor." If you purchase this novel (not a graphic novel, by the way), you can point out that it is a prequel that explores one of the most notorious characters from Robert Kirkman's popular series.
Indeed, "The Walking Dead" is a bona fide phenomenon and it may be difficult for even the most hardcore fan to keep up with the various titles out there, making it a great choice for a digital comics gift ("The Walking Dead" has its own app, with the first issue free).
There are countless apps out there for other comic book companies and titles, however, the digital app to end all apps is Comixology! They power both the official DC and Marvel apps and include most other publishers as well. If you only want one comic app on your digital devices this is the one to get.