So, the holidays are rolling around yet again, and you have an otaku in the family.
We can understand that you might feel a bit panicky about what to get them when it comes to the holidays. It's because you have no idea whose face is on those posters and the whole anime thing just seems like a universe unto itself.
How on earth do you delve into that? Or figure out what they like best? And even worse, what if you end up buying them something you think is cool, but they turn up their noses at?
It's hard to go wrong with a gift like a USB drive, especially since there are so many cool ones for fans of Japanese culture. For instance, the Voltron 2 GB USB drive is part pose-able toy and part storage monster, ready to transport your files with attitude. Plus, he comes with a blazing sword, which has no other function beyond making you look that much cooler. Voltron Force, go!

Not every Japanese culture fan is hung up on old '80s anime references, though. For many of us, watching anime and J-drama just makes our tummies rumble as we watch all the delicious-looking Japanese food pass in front of our eyes. It's a fact that playing "Persona 3" made me go out for ramen that day because you so much game-time in a ramen shop. I couldn't resist!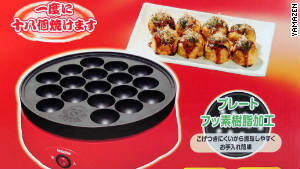 One excellent way to inspire a fan of Japanese cooking is with an item like the electric takoyaki maker, which enables you to create this delicious street food in your own home. Then your favorite otaku won't just have to envy that scrumptious looking food those girls in her favorite show are eating - instead, she can invite people over and serve themed snacks while they watch. Important note: Don't forget the Bulldog sauce.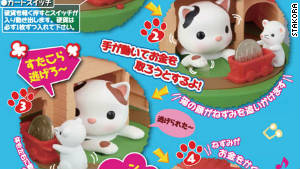 When buying Japanese gifts, keep in mind that cute is king. This much is evident when it comes to a gift like the Stakora bank, which features a precious cat in a house and a tiny bear that accepts your coin in his wagon before pushing it inside to save it for you. These adorable banks are popular with Japanese children, who associate saving money with something fun at a young age thanks to banks like this. You can also choose from different breeds of cat, which makes the process of picking a specific bank that much more fun.
Many otaku adore collectibles - which are also very popular in Japanese culture.
Since the live action version of anime classic "Akira" is in the works, why not thrill your friend (who likely hates the idea of a live action adaption anyway) with pitch-perfect figures of the original characters in this collaborative effort from toy makers Bandai and Medicom.
These poseable figures of Tetsuo and Kaneda feature clothing made from real cloth and both come with an extra head so you can swap out their look. At least if the live-action movie turns out to be as much of a trainwreck as we suspect it could be, you can look at these figures on your shelf and remember the good old days.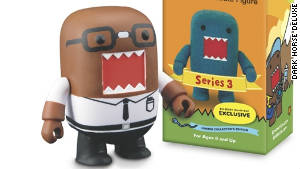 Thanks to American stores like Target, Domo-kun has gone from being the mascot of Japan's NHK television station to a widely recognizable figure of Japanese culture. There are tons of collectibles available of the cute little dude from plushies to poseables, but you can really administer a double dose of nerd culture by gifting the Nerdy Domo version, which was exclusively sold at San Diego Comic-Con this year. These likely wont be around too long, so don't wait if you want to snag one.
After a deep dive into all that Japanese culture, otakus may become interested in learning the language. Simply joking around about the few words that we do know thanks to repeated viewings of anime and drama is always fun for an otaku. A gift that nods to this passtime is ThinkGeek's "Japanese for Beginners" shirt.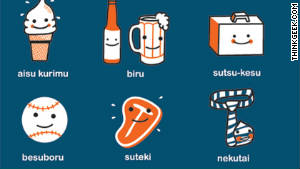 Featuring cute versions of several Japanese words that sound much like their American counterparts, it may come in handy if you need to remember how to order a beer or a steak. It also will likely earn you dirty looks if anyone can figure out what the vending machine joke is about, but hey, laughter makes you live longer.
The anime "Neon Genesis Evangelion" is one of the best known in otaku circles, and with good reason: the series redefined the boundaries of the mecha genre (which traditionally features giant robots) and has grosses over 150 billion yen since 1995. Japan shows no signs of slowing down when it comes to churning out cool merchandise from this series, and one of the slickest new additions are these chopstick sets which contain a tiny little figure of each character from the show.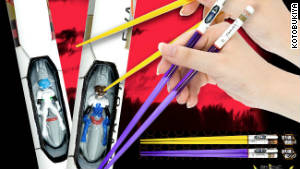 Shinji, Rei, Mari and Asuka are all available in themed colors, and you'll pretty much look like the coolest guy ever if you whip these out to use with your bento box lunch.
What if your Japanese fan is a beginner? Seen a few Studio Ghibli films, enjoys Haruki Murakami books, but isn't quite hardcore yet? Maybe something like the 2012 Studio Ghibli calendar would do the trick.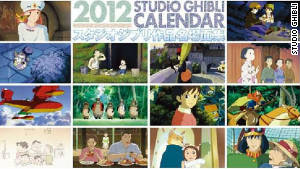 Featuring exclusive stills from many of the films the Japanese animation studio is famous for such as "Spirited Away", "Howl's Moving Castle" and "My Neighbor Totoro", this oversized calendar is a perfect way to relive the magical moments as you make your way through another year.
When it comes to unusual gifts, the Japanese pretty much have the advantage. If waking up to a normal old bell is not your idea of a good way to rise, maybe you should consider Clockman, which is an alarm that will speak to you in a child's voice and do everything from tell you the time to play games with you. With a smiling face like that to wake you up, it's hard not to feel cheery about the day.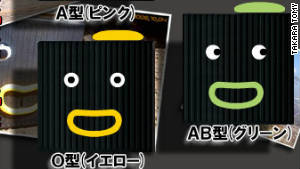 And of course, Clockman is cute - like pretty much everything else that Japan likes.
Shopping for the otaku in your life isn't as hard as you thought it might be, right? Now maybe next time you're trying to choose a gift for the J-culture fan in your life, you'll know where to look. Maybe you'll ever realize you need a cute little cat bank for yourself while you're at it!