Shopping for holiday gifts for sci-fi and fantasy fans isn't always easy, especially if you're not one yourself. Let CNN's Geek Out team guide you with some very inventive gift ideas that the geek in your life will love.
Want proof that scoundrel extraordinaire Han Solo is the coolest character in "Star Wars" canon? Just check your freezer. If you have to ask why anyone needs a Han Solo in Carbonite ice cube tray, you've obviously never seen "The Empire Strikes Back."
This nifty ice tray commemorates the famous moment when the Empire flips a switch and turns everyone's favorite smuggler-gone-legit into a Carbonite popsicle. It's a great conversation piece for the "Star Wars" fan, and having Han in a glass makes a cold drink even cooler.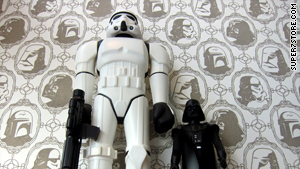 While sipping on that drink, the "Star Wars" fan in your life can enjoy the fact that their entire room is covered in Imperial forces wallpaper, thanks to you.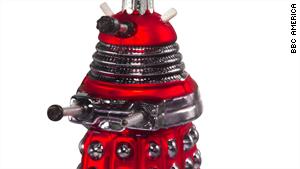 You'll want to get this Dalek ornament for that "Doctor Who" fan early enough so they can hang it on their tree. They probably already have a sonic screwdriver or a TARDIS usb hub, so this ornament will surely excite them. Don't forget to complete the set with a TARDIS ornament.
If the fanboy or fangirl in your life keeps hitting refresh on "The Hunger Games" trailer, they may want one of these beautiful fan-made "Hunger Games" ornaments.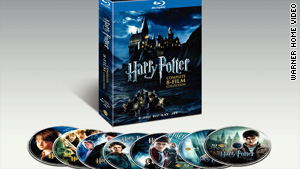 It's also been quite a year for classic movie sagas to end up on Blu-ray, including the just-released 8-movie set of "Harry Potter."
The film geek in your life may have also heard a little something about the entire "Star Wars" saga being released on Blu-Ray, and despite all of the misgivings about the changes in the movies, those deleted scenes and special features are hard to resist.
But let's not forget our friends from Middle Earth! Yes, the entire "Lord of the Rings" trilogy is also now available on Blu-Ray, and it looks as gorgeous as ever, so those eagerly awaiting the first "Hobbit" trailer will have this high on their list in the meantime. [Note: "Potter" and "Lord of the Rings" are distributed by Warner Home Video, which is a Time Warner company, as is CNN.]
Speaking of "Lord of the Rings," if you're looking to spend a few thousand on the Tolkein fan in your life, it might be worth checking out the gorgeous sculptures of John Howe as possible gifts.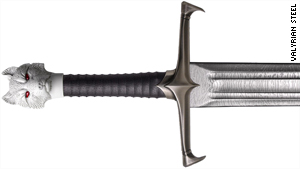 Fantasy fans usually can't resist the glint of a reproduction sword, and the hottest item in that category this year is the Longclaw sword from "Game of Thrones," also seen on CBS' "The Big Bang Theory."
If magic is more their style, Dumbledore's "Elder Wand", which figured prominently in the last two "Harry Potter" movies, would be a great gift for any graduate of Hogwarts.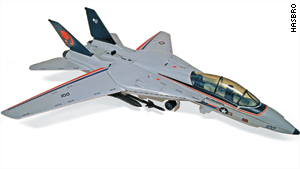 The "G.I. Joe" Sky Striker plane was a must-have toy, until it disappeared from store shelves in the mid-1980s - that is, until now. One of the top items on the list for nostalgic Joe collectors.
However, if the toy collector in your life has more modern tastes, it's hard to go wrong with the Ultimate Optimus Prime. This is the Transformer to rule them all, not to mention that it's a puzzle guaranteed to challenge even the most ardent regular BotCon attendee. More than meets the eye, indeed.
So that's a quick roundup of the many, many items out there that fans will be drooling over this holiday season. Hopefully, this gave you some great ideas. Keep reading CNN's Geek Out blog for more gift giving tips for your nerdy friend or family member.