Shopping for holiday gifts for sci-fi and fantasy fans isn't always easy, especially if you're not one yourself. Let CNN's Geek Out team guide you with some very inventive gift ideas that the geek in your life will love.
Want proof that scoundrel extraordinaire Han Solo is the coolest character in "Star Wars" canon? Just check your freezer. If you have to ask why anyone needs a Han Solo in Carbonite ice cube tray, you've obviously never seen "The Empire Strikes Back."
This nifty ice tray commemorates the famous moment when the Empire flips a switch and turns everyone's favorite smuggler-gone-legit into a Carbonite popsicle. It's a great conversation piece for the "Star Wars" fan, and having Han in a glass makes a cold drink even cooler.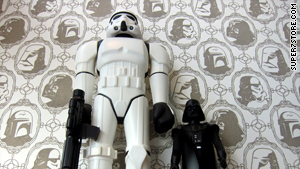 While sipping on that drink, the "Star Wars" fan in your life can enjoy the fact that their entire room is covered in Imperial forces wallpaper, thanks to you.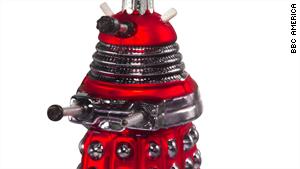 You'll want to get this Dalek ornament for that "Doctor Who" fan early enough so they can hang it on their tree. They probably already have a sonic screwdriver or a TARDIS usb hub, so this ornament will surely excite them. Don't forget to complete the set with a TARDIS ornament.
If the fanboy or fangirl in your life keeps hitting refresh on "The Hunger Games" trailer, they may want one of these beautiful fan-made "Hunger Games" ornaments. FULL POST