There have been several version of "X-Men" onscreen over the years, but nothing like this.
The popular comic book series was recently adapted into an anime series in Japan, and the show is set to make its U.S. debut Friday night on G4.
One of the American actors hired to dub the dialogue is Scott Porter ("Friday Night Lights," "Hart of Dixie"), an "X-Men" fan since childhood, who has taken on the role of Cyclops.
"I was excited to get on the ground floor and be the first to voice the 'X-Men' from this particular perspective for the English audience," he told CNN Geek Out. ""It was very cool to see a different artistic rendering of these well-known characters."

This was Porter's first voice acting role, but he had wanted to get his feet wet in that world for quite a few years. However, it wasn't easy.
"We were translating from Japanese to English, and I was the first guy in the room so it was a bit of a challenge," he said. "But it was great to see how my voice could come out of Cyclops who is such an iconic X-Man."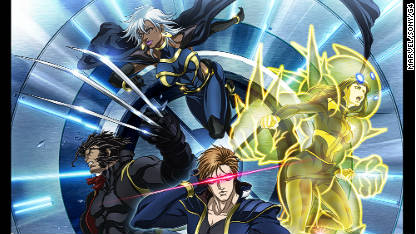 "X-Men" has been a lifelong love for Porter because the characters spoke to him.
"Spider-Man, Captain America and the Fantastic Four seemed so squeaky clean and just didn't interest me, but then you had these outcasts and I could identify with them, so it seemed very cool," he said.
"I love that universe in that there's a real sense of danger. Some people actually stay dead in the 'X-Men' universe."
Porter reads "X-Men" comics to this day.
"[Writer] Peter David's runs on 'X-Men' are up there for me," he said. "I know the '90s, for some people, were a little rough, but I love 'Executioner's Song.' I love Havok and it was great seeing him be a big time hero towards the end of that saga. I also loved 'Inferno,' I thought that was a really cool story as well."
Aside from Havok, Porter ranks Nightcrawler ("an angel in a devil's skin") and Ice Man as favorite characters.
"These characters have been so well shepherded over the years that it's hard to pick just one."
As for his thoughts on Cyclops, "I didn't like him at first, and wasn't sure what the draw was to Scott Summers. He seemed like 'Dad.' I took a step back and now I completely respect him. And I am on his side as far as [the recent 'X-Men' story arc] 'Schism' is concerned."
Outside of voice acting, Porter has come close to portraying superheroes in live action movies as well, having been one of the final two actors considered to play the Flash in the scrapped "Justice League" film, and the final four to star in "Captain America: The First Avenger."
"Hopefully, someday I can finally put some spandex on and call myself a superhero."
In the meantime, his portrayal as the beautifully-rendered anime version of Cyclops will do just fine.