When video game developer BioWare set out to create a Web series based on its popular role-playing video game "Dragon Age," it went straight to one of the top names in the business.
Over the past four years, "The Guild" has gained a strong following (with 100 million views and counting), and its star and creator, Felicia Day – also known for the Emmy-award winning Web short "Dr. Horrible's Sing-Along Blog" – has been referred to on more than one occasion as "queen of the geeks."
From an idea (and a show) that basically started in her garage, Day told CNN's Geek Out, "This season we had over 200 cast and crew, with amazing guest stars. We've had four seasons; we're practically grandfathers in this space."
Day also credits the show's fans, who take part in "Guild" art contests and the like, as being "a creative community and not just consumers."
CNN Geek Out spoke to Day about her new series, "Dragon Age: Redemption" (which launched Tuesday), and on the state of nerd culture:

CNN Geek Out: For those unfamiliar with it, what is "Dragon Age?"
Day: It's an in-depth role playing game. It has very character-based role play. It's a high-fantasy world like Tolkien and definitely puts a modern twist on those traditional tropes of a fantasy world. My character (Tallis) is sort of an outcast to her people and goes on a renegade crusade to recover an escaped mage. The cool thing about the BioWare games – and the way that I tried to keep the story faithful to BioWare – is that there's deep character building, as well as a touch of humor here and there. So it's not as grim as you might think.
I wrote the Web series and created the character with BioWare to make sure it fit in their world. On their side, they created a piece of video game content, and it's a whole adventure with my character. It's kind of taking transmedia and making it a reality. You can watch my character as a real person, and then you can play with my character virtually. I thought it was a huge project to be able to have that kind of cross-platform storytelling, and I'm excited to see how people react to it.
CNN Geek Out: You've had a couple of action roles in the past, so how was this different?
Day: I wrote and co-produced and acted in it all the same time. I only did a small fraction of what big movie stars do, but at the same time it was a big challenge because I've never worked out or done that kind of physical training to that extent, and we had very little time to shoot, because after all, we're on a Web series budget. We had to keep moving very quickly and stay safe at the same time.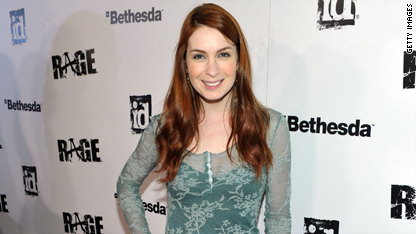 CNN Geek Out: As someone who is asked to represent geek culture in the media, what are your feelings on how it is now seen as "cool" and something that seemingly everyone wants to be involved with?
Day: I was a geek before it was mainstream. To me it's just a reflection of the Internet, where people aggregate around interests, and I think that's what geekdom is. Communities are really where people are socializing online rather than face to face. So the definition of geek is really someone who uses the Internet to connect with other people. It's not a bad thing that comics and other geek interests are being highlighted today. As a girl, I know when I was a kid, I wasn't exposed to comics as much. Girls today are exposed to comics to the point where it's cool to read comics or play video games, and I think that's good for the long run for people who write comics or play video games. I know in maybe 10 years, when people have moved on, I will still play role-playing games, and I'll still be a geek.
CNN Geek Out: And what do you think of terms like "nerd cred"?
Day: I feel like if you're confident in what you like, if you don't know something, just admit it. I don't feel the need to apologize if I haven't read all the comics in a series or played the more hardcore games. I know what I like. I feel like that's a shaming technique that's not particularly healthy, so I think it's a question of being really proud of what you love and admitting the things you don't know.
CNN Geek Out: Do you feel like geeks are portrayed more accurately in the media today than in years past?
Day: When I first started "The Guild" four years ago, many people had no idea that gamers could talk to each other online. It was the stereotype of the guy in his mom's basement being a jerk playing video games; that was the only gamer you could see. There's definitely a lot more quirky characters out there with geek interests represented, also a lot of writers in media or in Hollywood are geeks themselves, and now they're able to talk about it more because it's become more acceptable for the mainstream.
CNN Geek Out: What is the future of Web video?
Day: I think Web video has definitely come a long way in the last couple years, and there's some very interesting things on the horizon. A lot of people are unplugging their cable and not seeing why they want to pay that much money when they only watch five shows. People don't want to passively watch anymore; they want to interact, and I hope that bodes well for being able to make more interesting Web projects, and doing things like "Dragon Age" and keeping "The Guild" going. Hopefully that attracts the attention of people who want to make higher-budget Web series.
CNN Geek Out: What are you geeking out about right now?
Day: To be honest with you, I just renovated my garage as an office, and I'm in "buy mode" now. I'm trying to pick up the perfect objects and want to add things there to make my geek world adorable. I have a whole gaming shelf. All my comics are alphabetized now. I want to make my garage my perfect lady geek palace.
CNN Geek Out: So I have to ask, what's it like being a character in your own comic book?
Day: I can't draw at all, so when I see myself drawn as a human being, that's just the biggest thrill. Comic art – just the stylized nature of it – is just so inspiring. I couldn't be more flattered. It's definitely something I didn't expect.
CNN Geek Out: Is there more "Guild" to come?
Day: This has been a great season, and I definitely have another story in me, so we'll see. Most of (the guest stars) this season I just tweeted or met at a convention. That's what's cool about geek culture. It's being in a world where I get to meet people I admire and they admire what I do, and it's a dream come true.
[youtube http://www.youtube.com/watch?v=-093SQo9NWM&w=560&h=315%5D