"Weird Al" Yankovic has gone through many looks and styles over the past 30 years, and in a single performance he can appear as a dozen people. But there is a core, essential Yankovic who fuels the energy behind all of spectacle and manages to change gears constantly while remaining timeless.
I caught Yankovic on the Alpocalypse tour in Atlanta on October 1, the same night that his Comedy Central special aired for the first time. He joked with the audience that they could have just stayed home and watched that show for free instead. To thank us, he had his drummer, Jon "Bermuda" Schwartz, play a couple of solos, the most well-received of which was a single beat, which was met with wild applause.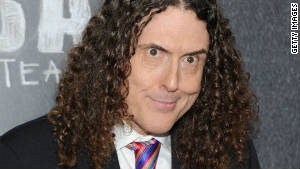 Yankovic opened the concert with "Polka Face," from his "Alpocalypse" album, an amalgamation of hit pop songs that have been slightly reconfigured to fit a polka style. It was soon clear that he would not spend too long wearing any one outfit. For "Perform This Way," he came out in a furry peacock costume as he deftly described all of the flamboyant ways Lady Gaga might get attention, such as covering herself with raw meat.
Although there were plenty of songs off the new album, he also threw in many old favorites such as "Amish Paradise," for which he dressed in the traditional black suit with hat and beard, and "White and Nerdy," which he began while riding a Segway. For "Fat," he delighted the crowd with a fat suit.
Besides Yankovic's talents for writing songs, his voice alone is powerful and virtually always on key, making beautiful harmonies with his backup singers. And boy, can he dance! For "Wanna B Ur Lovr," he came out in a red-and-black zebra print suit and left the stage to dazzle individual female audience members with smooth hip moves.
Throughout the show, as Yankovic and his band changed costumes, we got to appreciate just how culturally influential this man really is. There were clips from "The Simpsons," "Family Guy," "Friends" and a bunch of other hit TV shows from throughout the years dropping his name. My favorite was "The Simpsons" clip in which Homer, dejectedly watching a cartoon version of Yankovic parody one of Homer's songs, says "He who is tired of Weird Al is tired of life."
And of course there was Al TV. His fake MTV-style interviews, pairing Yankovic's questions with answers swiped from older interviews with big-name celebrities to make it look like they were having a conversation, are always hilarious. Celine Deon, Justin Timberlake and Jessica Simpson were among his victims.
But nothing could top the finale, in which Stormtroopers, Darth Vader and Yankovic dressed as a Jedi swarmed the stage to sing "The Saga Begins," a Star Wars-themed parody of "American Pie." That led into "Yoda," inspired by the Kinks' "Lola." And then Yankovic stopped singing, and this magical thing happened that I can't really explain.
For two minutes, he and his band did a perfectly synchronized, choreographed chant at super-human speeds that made no sense but was incredible to watch. I had to do some digging to learn that this has become part of encore performances of "Yoda," according to the fan site Al-Oholics Anonymous. And then, of course, they picked back up on the familiar "Yoda" song that everyone sang along with before leaving Yankovic's devoted fans for the evening.
All in all, if you have the opportunity to go see Weird Al perform, you should absolutely go!
Weird Al Yankovic continues touring the United States in October and November.