It all started with a cryptic tweet from "Back to the Future" executive producer Frank Marshall late on Wednesday: "Something big is coming soon. Can't say anything yet. No one should know too much about their own destiny."
Then Wednesday night, a video of "Marty McFly's closet" was posted on YouTube by one "DocEmmettBrown88:"
It appears that Nike is set to start manufacturing the long-rumored self-lacing shoes as worn by Marty McFly in the year 2015 in "Back to the Future Part II."
Hardcore fans of the movie trilogy have been dying to see some aspects of the movie's version of the future realized here (and in fact, some things like video conferencing and a Miami baseball team, have come to fruition). The shoes are definitely high up on that list.
More details about this are expected to be revealed by Nike later on Thursday. In the meantime, with 2015 less than four years away, one has to ask: can hoverboards be far behind?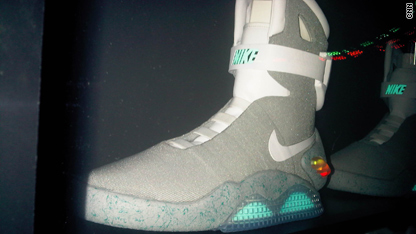 UPDATE: On Thursday afternoon, Marshall tweeted just ahead of the Nike announcement, "POWERLACES? Not until 2015..."
UPDATE: Michael J. Fox made a big announcement on "The Late Show with David Letterman" Thursday night. The shoes are replicas in every way to the ones seen in the film (except, unfortunately, for the self-lacing, as Marshall said), and 1,500 pairs are going up on eBay with proceeds going to Parkinson's research.